Hello All!I wanted to create a definitive thread regarding the factory-option 17" forged wheels for the Abarth, as there seems to be very little stickied FAQ here. What is your $1,200 buying you? Here we go:
First of all, you're getting a bigger wheel than standard. 17x7" versus 16x6.5". You're also getting a high performance tire, the Pirelli PZero Nero "max performance" summer tire in a wider, lower profile, and bigger diameter 205/40-17 size, with a high speed 168 MPH "W" rating.The biggest difference in the wheels is that they're forged. This process creates a very strong yet still light wheel. Abarth chose to create a wheel that has a similar weight to the standard 16", but in a larger 17" size. This choice implies the wheel strength is significant over the 16", meaning it can take more abuse on the street and track without taking damage. Forged wheels are also more resilient against potholes and curbs because they flex and return to their shape, like a Katana sword.Here are more details of the wheels:The lugs are 17mm hex head with 1.25mm pitch and a traditional cone-seat. This finer pitch is becoming more common compared to coarser 1.5mm pitch. The lug pockets have plenty of room for big bodied lug wrench sockets; no need for thin-wall sockets here thankfully.
The backside of the wheel shows some interesting detail. There are two machined pockets astride of the valve stem and its TPMS. This counterbalances the valve assembly and minimizes the lead weight needed during the mounted tire balancing stage. Very clever! Also, note the CNC machined pockets to save weight, and sub-pockets to locate the wheel mounting pins during installation. Snazzy stuff.
Here we have the engraved details on the inside of the hoop. 17" bead diameter, 7" bead width, 35mm positive offset, DOT & JWL approved, manufacture date and country of origin. Superalloy? hmmm...
Ahh here we go. Chrysler Part # 1VL35TRMAB, and if you paid attention in Chemistry class, it shows the "Superalloy" is an Aluminum, Magnesium 1 + Silicon + Copper alloy. This is the metallurgy trickery that makes the wheels super strong...and why they cost so much.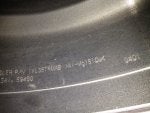 Finally, here is the wheel + tire combo on my scale. 38.8 pounds ready-to-roll is in my opinion on the lighter side for this size setup. Surely you can go lighter with aftermarket, however you likely will give up strength, which may not be a problem in some areas where smooth roads are common instead of rare.
In summary, the 35mm offset is an important piece of info for those going aftermarket. The "Superalloy" is rather intriguing, and some clever post-forging CNC machining gives them a semi-billet facet. I hope this has at least amused, and hopefully helped a few!
Cheers,Ryan