Discussion Starter
•
#1
•
Road Race Motorsports is proud to announce that we have the
DashDaq Series II XL Display
for sale for the Fiat 500 owner. A must have for those who are serious about tuning and for those that do not have a Navigation package that came with your Fiat 500. All in one package!
and 2 sample screenshots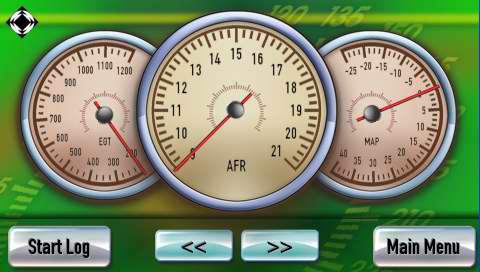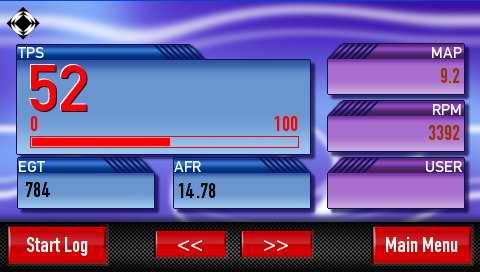 This DashDaq comes with TONS of features including;
Zeitronix-DashDaq display is Preconfigured for easy plug and play use with the zt-2
Display and data log AFR, RPM, EGT, Vacuum/Boost, TPS and configurable user inputs from the zt-2
Run a dual zt-2 configuration for left and right cylinder bank AFR values!
4.4" Touch-Screen offers 480x272 resolution using TFT LCD technology
24-bit full color display with contrast ratio of 350:1
Dimensions are 5"x3"x1" weight is only ½ lb.
Full OBDII support for display of parameters such as Mass Air Flow, Spark Advance, Coolant Temperature, and many more! (OBDII is not required for use with the zt-2.)
Data Logging Support onto removable memory card- no laptop or PDA required.
Auto Adjusting backlight, night mode, and low power standby.
Calculate Horsepower, Torque, 0-60 Performance, MPG and set configurable trip counters.
Diagnose and clear check engine light error codes
OBDII and Plug and Play Zeitronix zt-2 cables included
DashDaq zt-2 license included ($50 value)
Simple and secure windshield-mounted display.
NEW!!! Optional GPS Support with NAVTEQ maps for US and Canada. Supports points of interest, turn by turn directions, and voice guidance.

One question you may all have is....What is this "zt-2" I keep reading about that comes with the DashDaq?

Zt-2 Datalogging System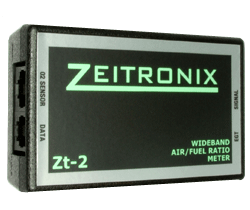 The Zt-2
provides the accuracy of a Dyno Air/Fuel reading right in your vehicle as well as multiple engine parameters. Our base system is very easy to install and includes the wideband oxygen sensor, controller, wiring hardware, and the software required to start datalogging and tuning immediately.

Supports Air/Fuel ratio as AFR/Lambda, plus RPM, Vacuum, Boost, Exhaust Gas Temperature, Throttle Position, 0-5 volt sensors, Air/Fluid temperature sensors and Oil/Fuel pressure sensors. Tune fuel injected and carburated engines.
Very simple installation - connect two wires to +12V and ground and place the O2 sensor in the exhaust stream and you are ready to read AFR! A simple led indicator displays off, warm-up and running modes.
No matter if you have a stand alone engine management system, a piggy back fuel control or a carbureted engine. The ZT-2 Wideband Air Fuel Ratio Meter is a must for serious tuners! Finally you can tune for more power, closer to the edge, precisely monitoring Air/Fuel ratio Boost, EGT, RPM, throttle position and more - datalogging up to 9 hours of data with a blazing rate of 65 samples per second per input.
zt-2 specs
0.1 AFR accuracy

Operating voltage 10V to 18V

Switching power supply for oxygen sensor heater

Precise sensor temperature control

Reverse polarity protection

Integrated self resettable fuse

Positive lock connectors
Protected inputs and outputs

Flexible Plug and Play Sensor Harness with a small, easy to route through the fire wall, connector

Wideband Oxygen Sensor included

Easy to install plug and play kit
INPUTS/OUTPUTS
Bosch Wideband O2 sensor Input

Linear Wideband Output

AFR = Volts * 2 + 9.6

Serial data output to the Zeitronix LCD, ZR-1 AFR, and ZR-2 Multi-Gauge Displays

Serial data output for real time datalogging (PC laptop required)

RPM Input (tachometer, primary side ignition coil, crank, cam sensor).
The RPM input works in any car and any ignition system. No additional adapters needed!

Simulated and adjustable Narrowband Output to feed a stock ECU

Throttle Position Sensor Input

Boost (MAP) Sensor Input:
- 50 PSI (3.5 Bar) MAP Sensor, or 75 PSI (5.0 Bar) MAP sensor or
150 PSI (10 Bar) MAP sensor

Exhaust Gas Temperature (EGT) probe Input

User1 Input:
- 0-5 volt analog input. Voltage data is viewable on all models of the LCD display.
Software support for the display of Zeitronix pressure sensors.
- Customized data conversions can be entered to match 0-5 volt sensor specifications.
All converted User1 data values are displayed only in the software.
User2 Input:
- 0-5 volt analog input OR configurable to be used with Fuel/Oil/Boost pressure sensors and Air/Water/Oil/Transmission temperature sensors.
- Data is displayed on the 2010 Model LCD and ZR-2 Multi-gauge as a pressure or temperature.
- Zeitronix Data Logger software will display and log data according to sensor type.
- Customized data conversions can be entered to match 0-5 volt sensor specifications.
Customized data conversion values are displayed in the Zeitronix Data Logger software only.
5V output for sensors