Discussion Starter
•
#1
•
Hi!
Been trying to find out what I can do to find new wheels for my Fiat 500e, but cannot seem to find any good collection of all that is needed, it seems scattered all over the place!
Have tried to collect what I have found here for mine and others benefit.
Let me put down what I have found on the size/bolts:
OEM-wheels:
15x5.5 (front)
15x6.5 (back)
Bolt pattern: 4-98
Hub-bore 58.10
Offset 35mm
Bolt M12 x 1.25mm (metric fine)
Problem everyone seem to have is that the bolt pattern is very unusual for this car (4-98), whereas the there is one very close to that people seem to use (4-100). TireRack for example have some wheel-kits that come up as 4-98, but is actually 4-100 wheels delivered with floating seat bolts and hub center rings for the wheel in question to fit the car. They do however not seem to want to sell the parts separately!
Different companies also have different policies, but found a thread where a Discount-Tire person states that they will service cars with floating seat bolts, if certain requirements are fulfilled.
These are: As long as there are at least 7 full turns of thread engagement and the tire and wheel combination meets certain criteria (load, tire to rim width, etc), we (Discount Tire) can service vehicles utilizing wobble bolts. This does not vary by location or region and is actually a new practice we adopted in 2017.
I've generally liked America's Tire pricing*/service**, & as I write this I see they sponsor this very forum section, but they aren't allowed to remove or install wheels with floating-cone bolts ("wobble" bolts, which don't actually wobble at all!). This may be the reason why they offer NO...
www.fiat500owners.com
So, now to the questions I have! Was looking at adding the König Helium to my fiat 500e, and would like Discount tire to do the work, and as much of the ordering as possible!
The Konig Helium is another Konig treasure. Its lightweight, 8-spoke design has found its way on to countless vehicles over the course of its life. Produced in silver, bronze and matte black the Helium offers and affordable lightweight wheel option for 4x100 fitments.
I would need a set of floating seat bolts M12 x 1.25mm, but where can I get some fulfilling the requirements?
Found these on eBay, but how does one know if they fit the requirements, and are of good quality?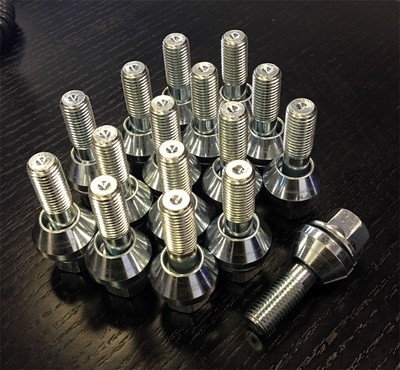 SET OF 16 PIECES OF 12 X 1.25mm THREAD PITCH WOBBLE LUG BOLTS! WOBBLE NUTS ALLOW 2MM OF SPACING BETWEEN THE ACTUAL WHEEL PATTERN OF THE WHEEL AND THE PATTERN ON YOUR CAR. FOR EXAMPLE, IF YOU HAVE A 5x114 BOLT PATTERN, THIS ALLOW YOU TO FIT 5x112 TO 5x116 WHEELS ONTO YOUR CAR SAFELY (ALWAYS USE A...
Then I would also need a set of hub centering rings, the hub-bore is 58.1 OEM, and the wheel has 73.1, so it should be possible, but where can I find something fitting the requirements, and the wheel/car? Would these work?
Any hints from people already done this or something similar?