Over the summer, I encountered the all too common problem that we've been having with the rear hatch not functioning. After doing a whole lot of digging, the only info I could find was about the wires splitting in the rubber sheath. Great! Now I can get started and have everything fixed in a day.
Here is what I found
Not too bad. No broken wires just a little water was found in that ?drain tube?; that must be the main issue: moisture causing contact. I sealed everything up and put the hatch back together. BOOM! FIXED!....or so I thought.
A while later, with a few damp days and the car sitting for a week unused, we're back to square one. Well, square -1 because now there is absolutely no function at all....the trunk shall remain closed forever. NOPE! With the help of actually reading a youtube comment, I actually found the release lever. 30 minutes later and everything was fixed. Its super easy, so the steps and pics are below.
This is only a guide if your exterior release button is not functioning but your wiring harness is intact....here we go.
1: GET YOUR HATCH OPEN
Pull off the interior panel. and look for this little bugger: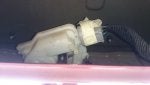 See that tiny metal lever at bottom dead centre? That is you manual trunk release. Brilliant spot in my opinion. Push this down with a screw driver and open your hatch. Tie a string to this and hang it out the hatch every time you close it. fixed.
Kidding of course.
2: TEST THE CIRCUIT FOR FUNCTION.
With your hatch open, close the catch with your finger and unplug the wire harness from the hatch release here:
Then, look at the end of the harness like an idiot for a few minutes while trying to remember what you did with you jumper wire; like this:
This is the important bit; hold it like that. Exactly like that. If you don't, then the magical electrician in you brain will get upset and take a coffee break. Got it? OK. The left terminal is for the license plate lights and not important at all. The right terminal should be a black wire, and the middle terminal is the lead for the hatch release actuator. Shove your paperclip in those 2 holes( I know you're going to use a paper clip). If your magical electrician is not on break, you should hear little buzz-click sound. look at the catch, is it open? Good, now close the catch again and play with this a few times(its a neat sound). You've also just discovered where your problem is.
3. REMOVE THE SWITCH
Remove the 4 nuts that you saw in the first picture of step 2(they might only be finger tight, as mine were), then while holding the chrome exterior piece(switch assembly), pinch the black pinchy thing in the middle. Done. Now, Step 4.
4. Look at how dirty the back and bottom of the switch assembly are and say "f#$ing gross" before you clean it all up. While doing that, have a look at the connector; it should be super dirty too, and maybe a little corroded.
5. CLEAN YOUR CONTACTS
Scratch the contacts clean with what ever is handy and, gently, bend them down, or up, about 1/2mm. I did this because, as you may notice, the male terminals are a lot smaller than the female terminals(Oops. I guess Italian designers like to have art imitate life). Plug the wiring harness in and push the button.....buzz-click? If it made the noise, you are all done; If it didn't, you'll have to investigate further.
6. INVESTIGATE FURTHER
I don't know. I didn't have to. Please, if you did have to post your steps.