Yes, to be safe for drivers with no skill, every car for the last several decades has understeer built in, but it's often excessive. For example I switched from narrower front OEM wheels/tires to equal all-round on my last 2 cars, & the fronts still slid before the rears.
Since matching front & rear wheels/tires doesn't eliminate 500e understeer, the standard fix is to increase rear roll stiffness by adding an
aftermarket rear swaybar (click here
).
Or, if item #2 in
post 11 above
is correct, a stock Abarth bar. However you definitely need more than JUST the bar, since these clamps are absent (click to enlarge):
Their mounting holes may be there, but if so, you'd still need to add the clamps AND file them down as shown to run nice light 15" wheels: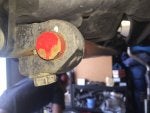 BOTH of the rear bars are designed for gas 500s, so they might induce too much oversteer with a 500E's extra 300+ pounds at the back making it slide. If so, the standard fix is to stiffen the front bar to balance it out*. Harder swaybar bushings may be a sufficient option, especially if you delete the very heavy rear seatbacks, but if not,
an adjustable front bar like this (click here)
should do it.
* The Abarth rear bar design has the nice option of being able to soften it a bit if needed with a reduced diameter, or hollow tube. Then you could leave the front swaybar as-is.